Our Maine Coon cattery is home to a remarkable collection of extra-large breeding females, known for producing exceptional offspring. These magnificent queens exemplify the finest qualities of the Maine Coon breed, including their impressive size, superior health, and remarkable beauty.
Our breeding females are the crown jewels of our cattery, and we take great care to ensure they are healthy, happy, and well-cared for. Each queen receives the best possible nutrition, veterinary care, and living conditions to ensure she is in optimal condition for breeding. We believe in providing our breeding females with a comfortable, stress-free environment that allows them to thrive and produce healthy, happy kittens. Our commitment to the well-being of our cats is evident in the remarkable offspring they produce, and we are proud to share their exceptional qualities with the world.
Whether you're seeking a new retired queen or simply looking to adopt a stunning Maine Coon kitten, our cattery offers the perfect solution.

Introducing EuroCoons Gaia, an exquisite black high silver classic tabby female European Maine Coon cat. Gaia's pedigree is nothing short of remarkable, with both of her parents - Kievan Steel of EuroCoons and Alysia of EuroCoons - being Ukrainian imports and exemplifying the finest qualities of the breed. Born on February 4, 2018, this stunning feline has already captured the hearts of many with her breathtaking coat and regal demeanor. In addition, Gaia has undergone comprehensive genetic testing, with all results returning N/N, guaranteeing her pristine genetic health.
With her impeccable pedigree, striking physical features, and pristine genetic health, Gaia represents the very best of the European Maine Coon breed. Her remarkable qualities have already translated into exceptional offspring, further establishing her as a true treasure in the world of feline breeding.

EuroCoons Tesla is a stunning and alluring female European Maine Coon cat, exuding a spirit of untamed wilderness with her bewitching beauty.
Her mesmerizing blue tortie smoke coat is truly breathtaking and a hallmark of our elite breeding program, reserved for those who demand only the finest. Born on March 15, 2019, Tesla boasts an impeccable pedigree, with her parents being none other than Kievan Steel, a magnificent blue silver mackerel tabby male European Maine Coon cat, and Gisele of EuroCoons, a silver tortie European female Maine Coon cat imported from Poland. Both have a proven record of producing huge Maine Coon kittens for us during their illustrious breeding careers.
Tesla has undergone complete genetic testing, and all results have returned N/N, affirming her optimal genetic health. As an exemplar of the European Maine Coon breed, Tesla promises to produce offspring of unparalleled beauty and quality, truly worthy of those seeking only the best.
Retiring/Available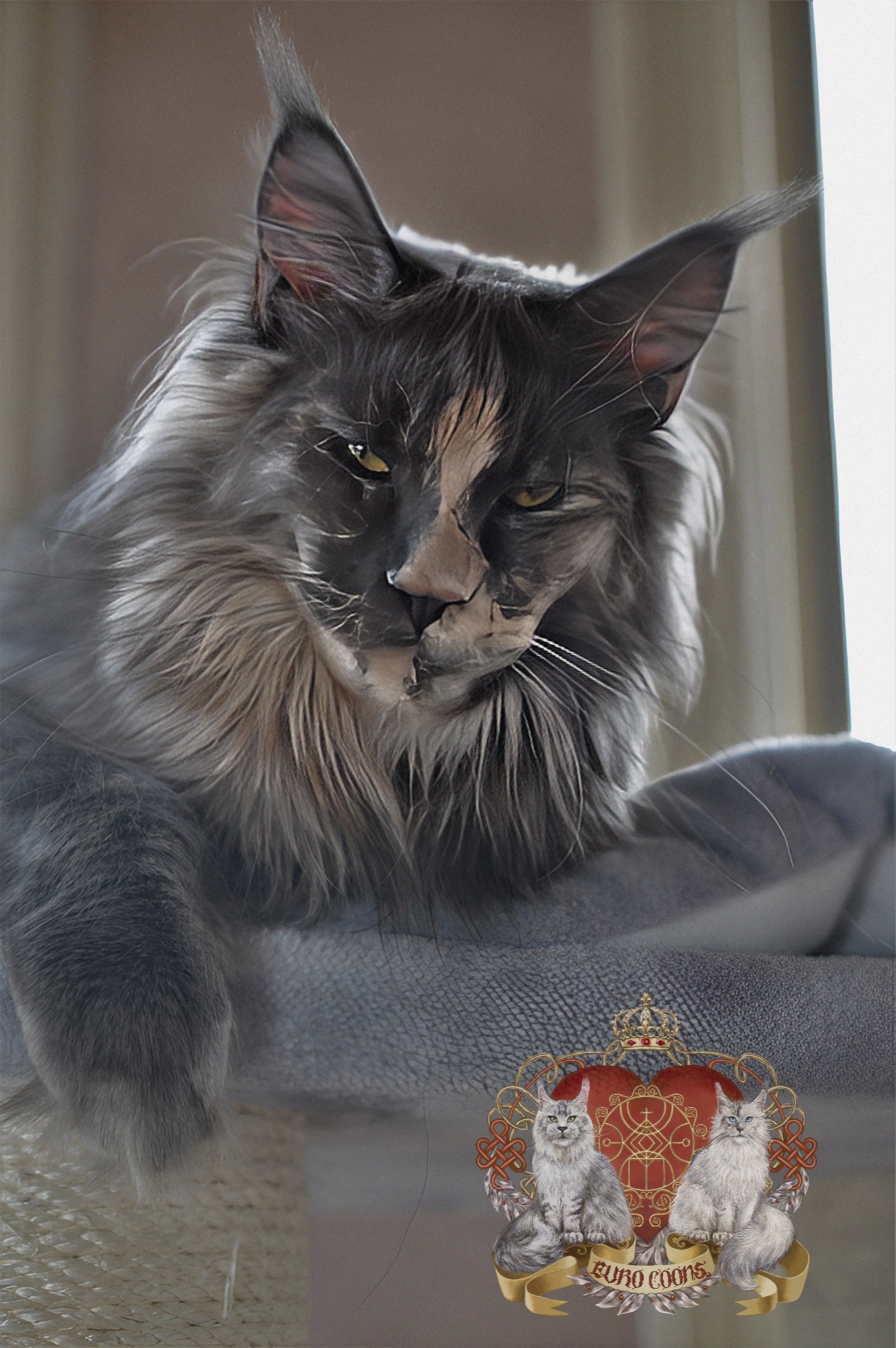 EuroCoons Lada is an embodiment of luxury and refinement, a rare and exquisite Black Silver Shaded Female European Maine Coon Cat that has been carefully bred from the finest bloodlines around the globe.
Our cattery's unrelenting pursuit of perfection is reflected in Lada's impressive pedigree, which includes her rare and coveted parents: Tank, a Swiss import of pale full smoke, genetically - black silver shaded, male European Maine Coon Cat, and Penny of EuroCoons, a Slovakian import of silver ticked tabby, European Female Maine Coon Cat.
Lada's birth on June 6, 2020 marked the arrival of a truly exceptional feline, with her striking coat, regal poise, and captivating gaze setting her apart from the rest.
Lada has undergone complete genetic testing, with all results returning N/N, ensuring her perfect genetic health.
As an outstanding representative of the European Maine Coon breed, Lada is a true reflection of opulence and elegance. Her refined features, combined with her pristine genetic health, make her kittens an ideal choice for those with refined tastes.

Introducing Sara, a magnificent Silver Tortie Classic Tabby Female European Maine Coon Cat. This regal feline is an exceptional import from Poland, boasting some of the rarest and largest bloodlines known to the Maine Coon world. Sara's commanding presence and impressive size are a testament to her illustrious lineage, making her an awe-inspiring sight to behold.
Born on July 29, 2019, Sara shares parentage with one of EuroCoons' esteemed retired giants, Gisele, making her a half-sister to this highly regarded ex Queen of our cattery.
Her genetic testing has been thoroughly completed, with all results returning N/N, ensuring that she is in optimal genetic health.
Sara embodies the quintessential characteristics of the European Maine Coon breed, with her impressive stature and striking physical features.
Her exceptional pedigree and pristine genetic health make her an ideal choice for those seeking to appreciate the size and grandeur in their home.
When paired with our impressive giant boys like Zed, Sara is sure to produce gentle giants that will astound the Maine Coon world.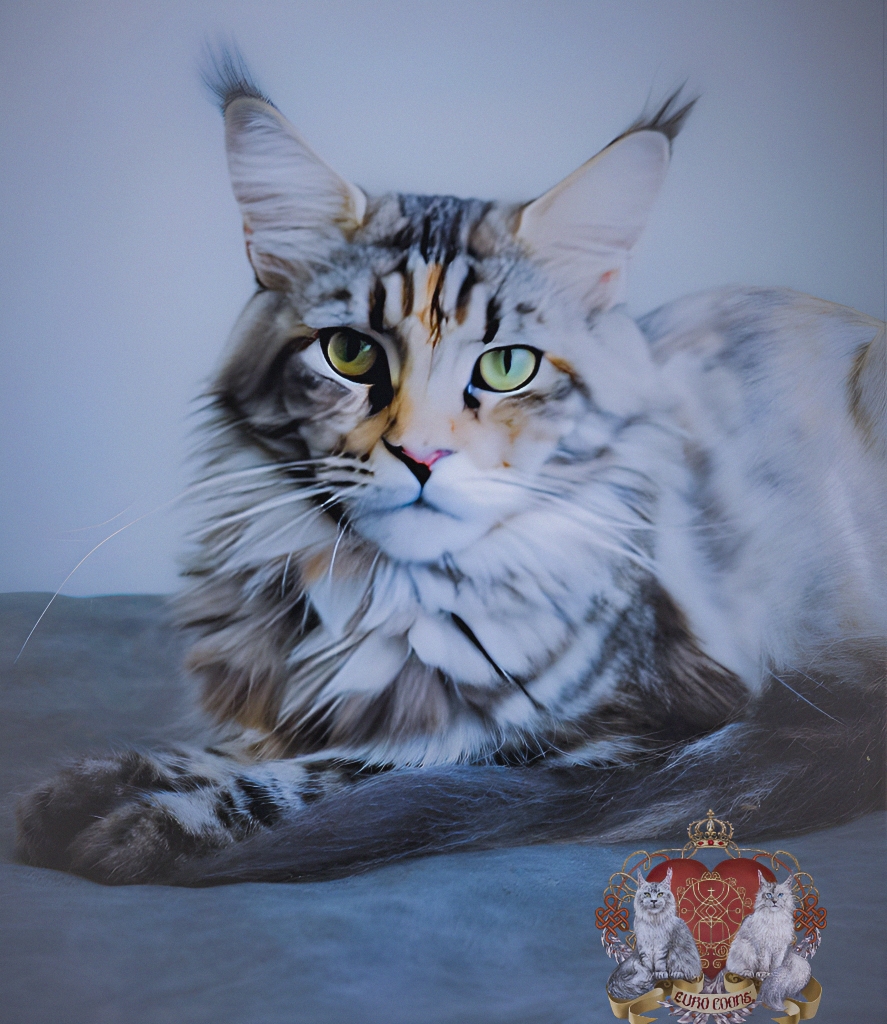 Meet TriD Wannetta, a true gem in the collection of exceptional cats at EuroCoons. This magnificent European Maine Coon is a stunning example of feline beauty, boasting a pale silver torbie coat with a shaded gene in her direct lineage.
Wannetta is not only aesthetically pleasing but also exudes a sweet and graceful demeanor, making her an embodiment of elegance. Hailing from Russia, this regal feline was born on July 29, 2020, and has since been an exceptional addition to our breeding program.
To ensure optimal genetic health, Wannetta's testing has been rigorously completed, with all results returning N/N. This provides peace of mind to those seeking to add a Maine Coon kitten to their homes.
Whether you're looking for a loyal and affectionate companion or simply want to add beauty to your household, one of Wannetta's kittens is an excellent choice.