A.  Just to clear up any confusion, the name "EuroCoons" refers to our cattery's name only, originating since our cattery's inception, and our cats being bred in Europe. It is not a special breed of a Maine Coon cat. Our EuroCoons™️ have a number of desirable traits, such as a stronger muzzle and chin, as well as tall ears with the Lynx-like tips/brushes. American Maine Coon cats typically lack the sought-after "wild" look, that our clients love so much. Additionally, our EuroCoons™️ have piercing almond-shaped eyes that add to their exotic appearance. 
A. Simply put, "show quality" cats meet every required breed-specific standard, such as build/body shape, color/pattern, profile, chin/muzzle, temperament, etc., to be considered for competition. These standards can change depending on judge's preference at any given time. However, it's important to note that any of our EuroCoons Maine Coon kittens or cats that joins your family will become a pet when you bring him/her home. This is because our cats are sold without breeding rights, and the kitten will be spayed or neutered prior to pick up. But you'll still get a show-quality kitten with amazing looks!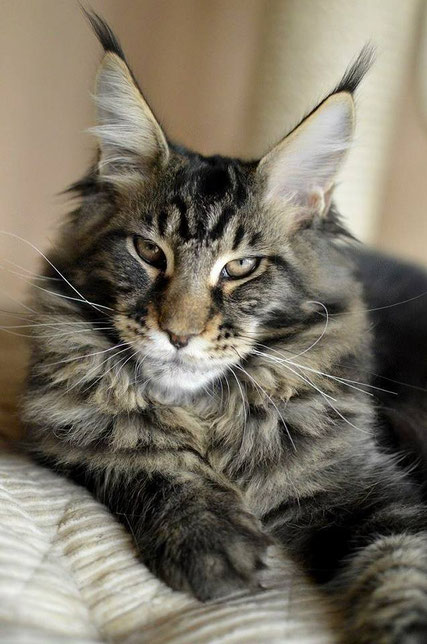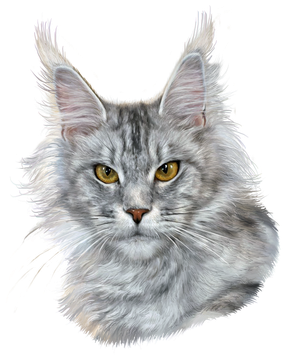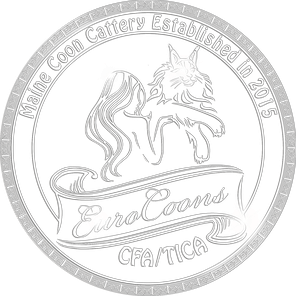 A. In one word, WONDERFUL!  We wholeheartedly believe that temperament at large comes down to how the kittens are treated by the breeder. This begins from the moment they are born until they leave our cattery with their loving new families. Without exception, you can expect our kittens to be full of love and affection and will loyally bond to your family, regardless of age. Of course, just like people, our Maine Coon kittens have unique personalities. Some are a bit cautious of anyone new, while other kittens instantly become everybody's best friend. Some may start purring at the possibility of being petted, while others never purr… (extremely rare) no matter how much they love the attention. We even have cats that loudly (and proudly) announce to the world their intention to use the litter box, while others do their business with zero fanfare.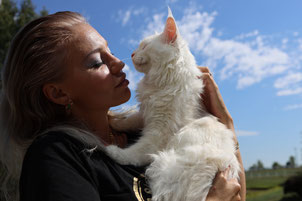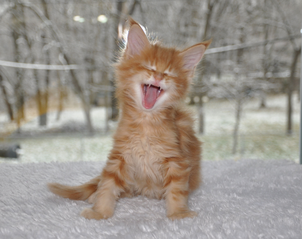 A. Visualize a male Maine Coon cat standing on his or her hind legs, literally placing his nose up and over the kitchen countertops to smell the food we're preparing! That's right - these cats are that long! We have had male kittens that tip the scale at over 28 pounds at one-year-old, and females at over 17 pounds. Keep in mind that a kitten's weight doesn't necessarily predict the final size and weight of an adult Maine Coon cat. As you might imagine, many factors play a role, including diet, presence of so called portion control, environment, etc.
Typically, a Maine Coon kitten is not fully-grown until about three-years-old, sometimes up to five. In our opinion, a kitten's weight is not a strong indicator for which one will grow to be bigger than another. Weight is a guessing game. It's worth noting that after a Maine Coon gets "fixed" she or he will grow significantly larger than one that hasn't been spayed or neutered yet.
A. See above - you pretty much can't or at least can't bet on it! We can make our best guess, but you just never know. Just like people, kittens are born with a certain growth potential. When raised in an ideal environment, and provided ultimate diet, they are certainly more likely to reach that potential. Even though our kittens are known to grow extra large, we always tend to stay on the smaller (average) side of this guessing game when we are asked "how much will my Maine Coon kitten weigh."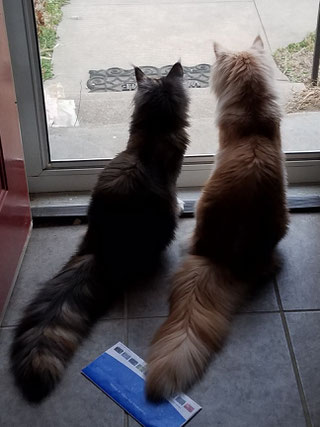 A. The disposition of a Maine Coon Cat (European or American) is heavily dependent upon the breeder. Since our kittens receive nonstop love and attention, they learn to crave it and are eager to return the affection. This means our kittens will love to be near you at all times, whether that's laying on your lap while you watch TV, snuggling you in bed, or covering your laptop when you're trying to work. They'll even watch for you out the window and race to greet you at the door when you get home. No two cats are the same, but for the most part ours are big, attention-seeking balls of love!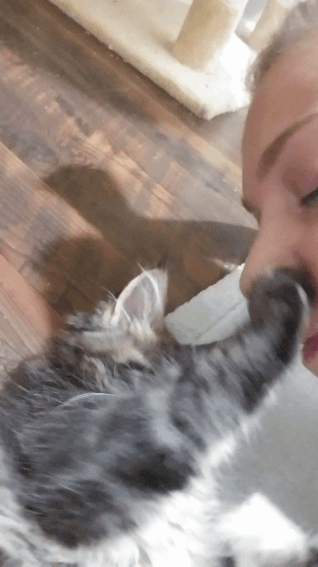 A. Our kittens have very little exposure to our dogs, primarily due to the giant size of our dogs' breed. However, we have heard from our existing EuroCoons™️ families that they get along extremely well with dogs and other cats, even ferrets, birds and fish! Much of how well the arrangement will work depends on the introduction process and the dispositions of all other resident pets involved in your family. Our kittens are very playful and friendly with other animals – and never, ever mean any harm. Entertain and cause mischief, yes, but harm? No!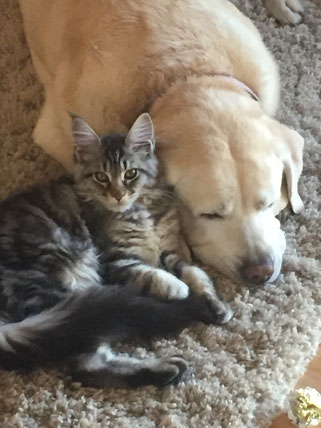 A. Well, our son, now fourteen, has been constantly around them since he was five helping us raise and socialize our Maine Coon kittens. So our babies have become experts on the subject of little boys. As long as we teach our children how to treat all animals with love and respect, everything turns out just perfect. We take this subject very seriously and are always happy to discuss it in detail with anybody interested in one of our kittens.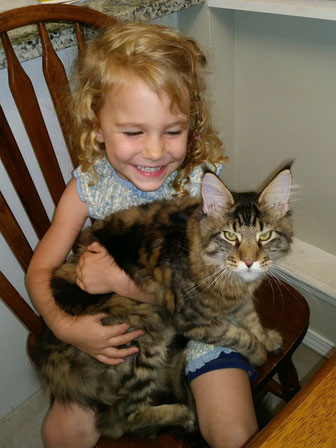 A. Our pricing is set and varies based on the kitten. While it doesn't cost any less to raise one kitten than the other, many prefer male kittens, trending coat colors, or blue eyes, for example. And, since male Maine Coon cats are significantly larger than females, in most cases, they sell for proportionally more. Because of the high breeding quality, size, overall care of our queens and kings, and the tremendous amount of time, resources, care, and attention invested in our kittens, our EuroCoons do sell at the top of the market spectrum. Female kittens can range from $3300-$5500 (high end). Male kittens, from $4500-$8500. Most kittens are being priced at the low to medium spectrum at the moment. However, again, prices will vary depending on the kitten. Please contact us for pricing if you are interested in a specific kitten.
A. Of course, when you adopt a kitten from our cattery, you can be 100% certain that you're getting an exquisite example of the breed.  All of our European Maine Coon kittens will be:
fed a raw and high-quality canned diet with essential supplements for our extra-large Maine Coon kittens (with at least 4 months of them being under our care and starting with supplemental feedings on day one, to ensure proper growth and development. Honestly, it's hard to calculate the exact diet cost of raising our kittens, and I never will since it's not even a question. All our litters and their mothers are supplemented with at least 3 cans a day of ready-to-use KMR for the first 4 weeks only. Further they get on a special prescription wet diet during transition to raw lean beef/ complete and balanced raw diet)

be spayed or neutered (up to $500 in savings)

have had at least three rounds of the FVRCP vaccinations plus Rabies ($460)

have been micro-chipped with a free lifetime registration! ($68)

be used to plenty of love and attention (priceless)

come with one one-year Genetic health guarantee (kitten replacement during the first year for any genetic or congenital issues)

have all the instructions for daily care (huge time savings)

have a gift bag with food and treats and toys and blanket with mother's/siblings' sent on it

come with lifetime Breeder support 
If you have any questions that have not been addressed here, it would be my pleasure to answer them! Please text 913-563-0043 first to set up a phone call! 

A. At this time, we do not sell kittens with show or breeding rights. As mentioned earlier, whether the kitten is "show" or "pet" quality is NOT an indication of the high standards and quality of the kitten - it is merely a business decision we made when we started the cattery. We also do not provide stud services, since our kittens live in an extremely safe, protected and "closed" environment.
A. Unfortunately, we do NOT allow cattery visits due to potential health concerns and inherent stressors that could adversely impact our babies and pregnant queens. Sorry, no exceptions. Does that make us overprotective parents? Guilty as charged! 
A. Generally, we make our kittens available for reservation around 12 weeks of age, to go home no earlier than 14 weeks. In some cases, it may be earlier or later, but we always announce the approximate date when reservations become available on our site – so keep checking back!
A. We do ask that an application is completed and approved prior to accepting a deposit. You can download and fill out our Maine Coon Kitten and Cat Adoption Application - CLICK HERE.
Simply email us at kittens@eurocoonsmainecooncattery.com if you are interested in applying, and we'll be in touch.
Please note, that once you have decided to proceed with adoption and fill out an application it is in your best interest to return it to us ASAP. There are other people just like you that may be interested in the same kitten at the same time that may beat you to the punch.
Please just keep in mind we are unable to hold the kitten without a deposit, especially if we do not have an approved application on file.
All kittens must be picked up within 14 days of deposit, our cats lives literally depend on the proceeds from adoption, so we appreciate your understanding and compliance!
Thank you!
A.  We require a non-refundable 50% or $2000 deposit (whichever is less) minimum depending on the kitten's full adoption cost on all of our kittens and/or cats. The deposit is non-refundable only unless the cattery cancels the sale of the kitten for some unforeseen circumstances (thankfully never happened before)
Due to the high demand for our kittens, deposits are accepted via Venmo or Zelle only, since it allows for faster transfers and real-time reservations. Transfer fees charged by Venmo as for buyer guarantee are paid by the buyer and must be included in the total transfer amount or will be applied to the total balance due at pickup. The deposit amount minus the transaction fees (if any) is credited towards the total cost of the kitten. Balance is due in cash only at the time of pickup.
A. Deposit made on a particular kitten is not exchangeable. This policy was adopted as the result of well-intended folks wavering and basically holding up multiple kittens while they made a decision. Obviously, this is not fair to other families seeking to proceed with adoption of our Maine Coon kittens as soon as possible.
a. Normally, our babies go to their forever homes after 14-16 weeks of age.
A.  While we try to be flexible and accommodating, "a few days later" or the "next weekend" exceeds the planned "pick up" schedule and could negatively affect your new little family member. For example, kittens can suffer from separation anxiety and other stressors as their brothers and sisters leave the litter; so strict adherence to pick up schedules is a must. Finally, if the agreed upon pick up date is delayed or cancelled by the buyer, the deposit is forfeited and the kitten will become available to another family. 
A. Our home/cattery. The address will be provided to you prior to pickup.
A. We do not offer payment terms or financing. Deposits must be made via Venmo, Zelle, or if requested by the client can also be made via wire or bank to bank transfer. Balance in cash only is due in full upon pick up. 
A. Only a carrier is needed. We provide a special Care Package with food and other items that will last our kitten for a few days and up to a week. 
---
A. We DO NOT ship our Maine Coon kittens or cats; our clients pick up their kitten at our home. We're grateful that so many clients appreciate what we're doing at our cattery that they drive or fly from all over the U.S. for our kittens.